PASSIONATE ABOUT HUMAN RIGHTS
Communication Rights Australia is the leading human rights information and advocacy organisation for people with a disability, prioritising those with communication support needs.
We are the only advocacy and information service within Australia that gives priority to people who have little or no speech. Our services are designed to break down barriers and remove discrimination through:
OUR VISION
Equality and inclusion of people with disabilities including those with communication support needs.
OUR MISSION
To uphold the human rights of people with communication support needs. Actively committed to breaking down barriers to inclusion for people with a disability, we aim for a world free of discrimination where people with a disability are heard and treated with dignity.
OUR HISTORY
In 1980, a self-help group, the 'Board Users Group' was created by a sector of the speech-impaired community in response to the inequalities and barriers faced by them at the time.
In 1984 it was renamed 'Communication Aid User Society' but confusion arose with people believing that only those who used devices could access the group.
Evolving from a self-help group to a statewide, non-profit organisation funded by the Victorian Department of Human Services, Philanthropic Trusts and Donations, the organisation rebranded as 'CAUS' in 1999.
The final name change to Communication Rights Australia came into existence in 2000, better reflecting the values and activities of the organisation.
Today, we continue to drive the core activities of advocacy and specialist information in order to support and enhance the lives of people with little or no speech. Our work proactively addresses the barriers that prevent people from accessing their rights. Click here to view our Constitution and read more about what we do here.
Testimonials
"We could not have asked for a more significant outcome. The outcome achieved will not only assist my son, but will set the precedence for many students with disabilities to ensure their rights are met".
Karen*, parent
Testimonials
"Thank you so much for coming all this way yesterday and speaking up for [us]. We were amazed at your input. The whole meeting went beyond expectations. Can't thank you and Communication Rights Australia enough. As you would realise, you've made a difference in our lives!"
– Patricia*
Testimonials
"Thank you for coming to our group today and speaking under all the different conditions. The ladies have new hope; fighting spirit about them. Thanks for making the effort to come to us. Greatly appreciated."
– Parents group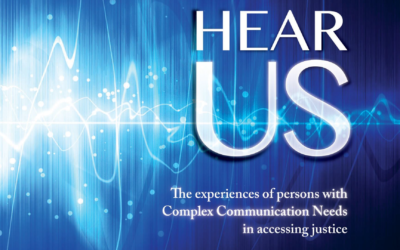 Dr Marg Camilleri has released the findings of her research project, titled 'Hear Us: The experiences of persons with Complex Communication Needs in accessing justice'. The main aims of this research were to better understand, and to make visible, the often invisible...
read more